Cosmetic Dentistry – Pacoima, CA
Bring Out the Beauty
of Your Smile
A beautiful smile can be infectious, but if there's a stain or a crack or another notable flaw that has you feeling self-conscious about your appearance, you probably aren't grinning as much as you might want to. But even with such imperfections, your dream smile could still be in reach thanks to the various treatments that Dr. Ramtin has to offer. Call A New Smile today to set up a consultation and discuss some of the improvements that you've been wanting to make to your teeth with cosmetic dentistry in Pacoima, CA.
Why Choose A New Smile for Cosmetic Dentistry?
Custom Crowns,
Inlays, and Onlays
Personalized At-Home
Teeth Whitening
Advanced Technology for Quality Dental Care
Porcelain Veneers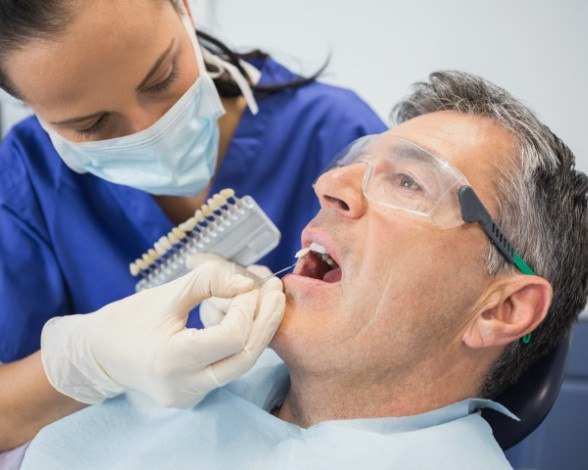 Many of the seemingly flawless smiles that you've seen on television and in magazines are actually the result of porcelain veneers. These thin ceramic restorations are made to cover your teeth like masks. As a result, multiple dental flaws will disappear in one fell swoop, leaving you with a dazzling yet natural-looking smile in as little as two appointments. Even better, you can count on the results to last a long time: veneers don't stain easily, and they can last more than 10 years with the right care and maintenance.
Metal-Free Dental Crowns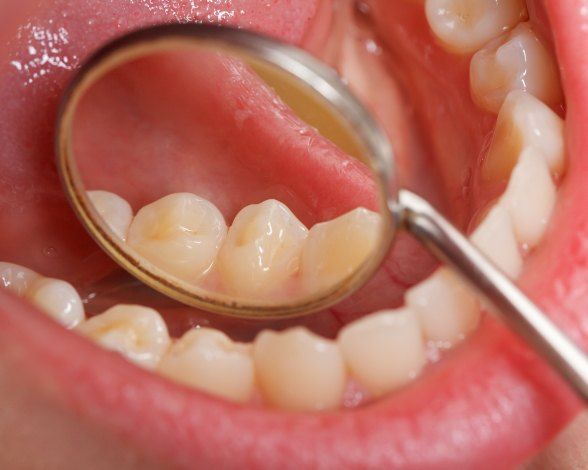 If you've ever seen someone with a metal crown, you know how much they tend to stand out. Our dental office instead offers EMAX crowns made out of a special kind of ceramic material. EMAX restorations are notable for their translucent color that's extremely similar to natural teeth. Once it's in place, most people won't even be able to tell just by looking that you've had dental work done. In addition to crowns, EMAX inlays and onlays are also available.
Cosmetic Dental Bonding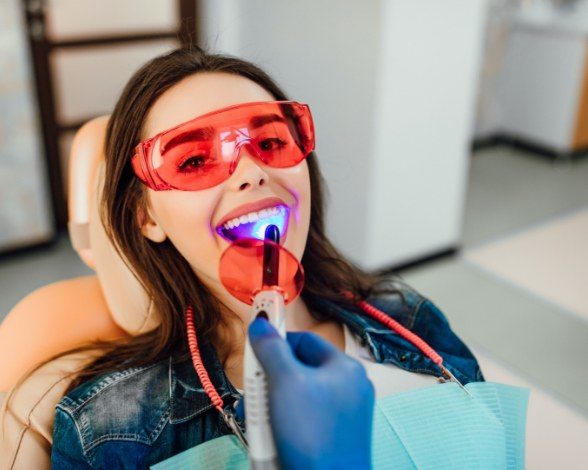 Maybe there are just one or two corrections you want to make to your smile, such as closing a gap that's just a little too big or hiding dental discoloration. Cosmetic bonding is an excellent way to make a variety of quick changes in just one visit. A small amount of composite resin is applied to your teeth, covering up the cosmetic flaws in question; then a special light is used to harden the resin in seconds. This procedure can be considered the faster, less expensive alternative to veneers.
Teeth Whitening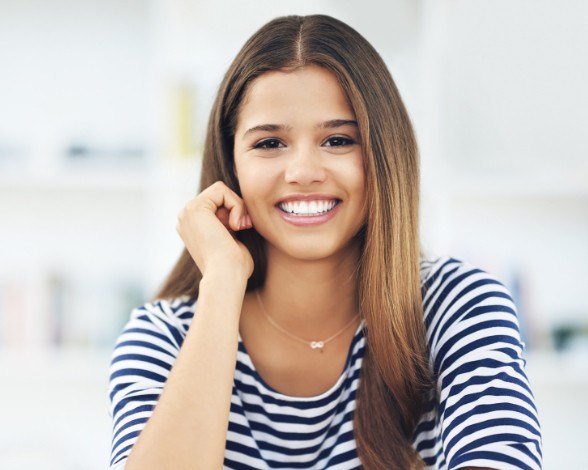 Does it seem like your smile has gotten duller over the years? We can help you brighten it again with one of our professional whitening treatments. Our Opalescence take-home whitening kits are more effective than whitening products you might find at the store and can create dazzling results in just two weeks. But if you'd like a brighter grin sooner, we may recommend an in-office Zoom whitening procedure, which can help you say goodbye to dental stains in about an hour!
Learn More About Teeth Whitening
Smile Makeovers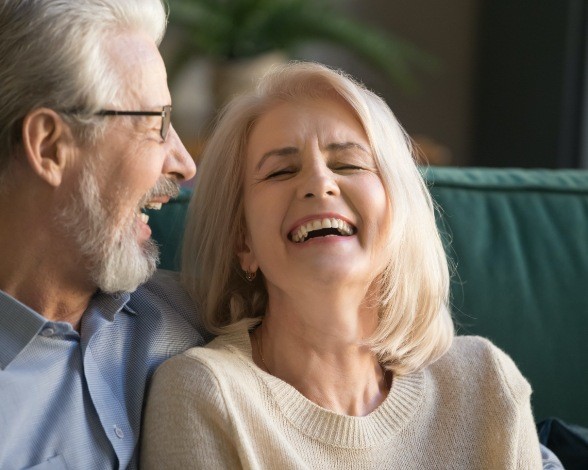 Are you not sure what kind of treatment you need to make the improvements you have in mind? Get in touch with us to discuss a full smile makeover. Once we know what your goal is and have examined your entire mouth, we can create a personalized treatment plan for you in order to make the desired changes. This may involve one or a combination of cosmetic dental procedures based on what kind of improvements need to be made.
Understanding the Cost of Cosmetic Dentistry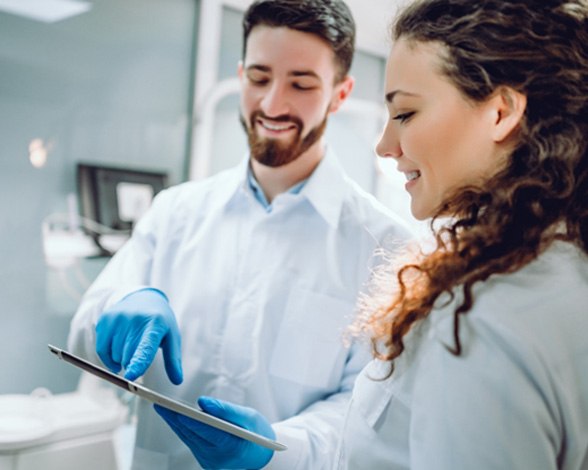 Many patients tend to be concerned about completing cosmetic dentistry out of fear it will be very expensive. This is mainly because dental insurance won't cover the cost of care, at least in most cases. At A New Smile, our dentists and team members are happy to sit down with you to discuss your needs and create a treatment plan that fits your budget.
Which Cosmetic Dental Service Is Right for Me?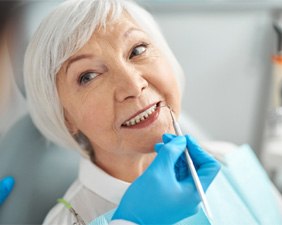 When it comes to cosmetic dentistry, people often try to address as many imperfections at a time as possible. Whether this includes whitening, straightening, or changing the shape or size of teeth, there's a treatment available to you to accomplish these goals! However, the service you choose will have a major impact on the final amount you pay. Keep these services in mind:
Cosmetic Dental Bonding – Ideal for smaller changes but will require regular touch-ups to maintain. It's also one of the cheapest cosmetic treatments you can receive outside of whitening.
In-Office and At-Home Teeth Whitening – Our office provides professional-grade whitening in-house as well as on-the-go products so you can easily whiten your smile with us or outside the practice. While these services are relatively cheap and effective, they won't make a difference if you want to change the shape, size, or position of your teeth.
Veneers – When you need to make changes to the shape and size of your teeth as well as hide noticeable cracks and chips in your visible smile, veneers are the best way to do it. Keep in mind they will be more expensive than other cosmetic treatments.
Invisalign – Addressing the position of your teeth is not only good for your smile's appearance, but your long-term oral health and well-being (i.e. those with uneven bites, which can cause jaw pain). However, Invisalign is a big commitment that will require a high cost and several months of treatment.
Smile Makeovers – We can create a treatment plan that combines multiple services to ensure you address all concerns with your smile as comprehensively as possible.
Why Cosmetic Dentistry is Worth the Investment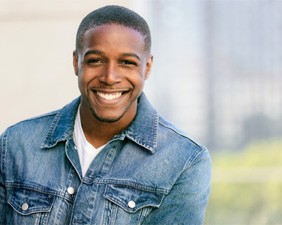 While it's true that cosmetic dentistry can feel like a large commitment, the reality is it's also an investment in your smile that can last for years (and even the rest of your life depending on what you receive). If you've always felt self-conscious about your smile or hidden it when around friends and family, cosmetic dentistry can completely change the way you perceive yourself. For example, having a beautiful smile can boost your self-esteem and confidence, which can be quite beneficial socially and professionally.
How to Make Cosmetic Dentistry Affordable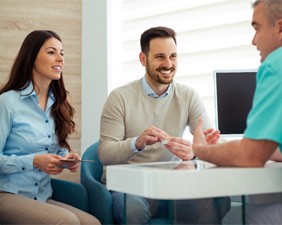 Any dental treatments that are purely cosmetic will likely not receive any coverage from a dental insurance plan, which is why it's important to think about alternative financing options to make your treatment more cost friendly. For example, we often recommend CareCredit and Sunbit financing for those looking to pay for care in monthly installments with little to no interest attached. We also provide exciting offers on cosmetic dentistry that can make your care easier to afford.
No matter how you intend to pay for your dental treatments, our office will gladly sit down with you one-on-one to create a plan that best meets your needs without breaking the bank.
Cosmetic Dentistry FAQs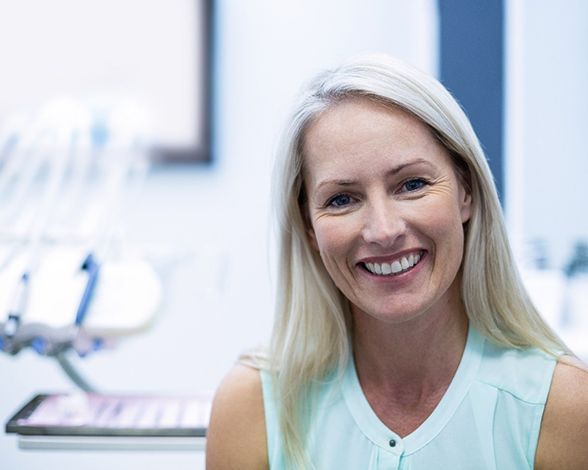 With so many cosmetic dental treatments to choose from, it can be difficult to know where to start, especially if it's your first time considering enhancements for your smile. If you have any questions ahead of your cosmetic consultation, we encourage you to take a moment to read over some of our most commonly asked questions below. You just may find the answer you're looking for before you even speak with one of our dentists!
How Do I Know If I Need Cosmetic Dentistry?
Not 100% sure if cosmetic dentistry is right for you? If you look in the mirror and you don't feel comfortable showing your teeth when you smile, there's a good chance you can benefit from treatment. For example, stained or discolored teeth usually respond way better to professional whitening services compared to over-the-counter products. When chips and cracks appear, they can look unsightly and potentially expose the center of your teeth to harmful bacteria. In this case, veneers can be quite helpful. Cosmetic dentistry is also recommended for those who want to maintain a more youthful appearance. However, you won't be able to confirm if cosmetic dentistry is right for you for sure until you speak with our dentists! They're happy to recommend a specific treatment (or series of treatments) to help you achieve your dream smile.
Is Cosmetic Dentistry Safe?
When being taken care of by a trained professional (such as our dentists), you can expect most cosmetic dentistry to be safe to receive. With that said, you need to be eligible to receive cosmetic dentistry first. That means if you have existing dental problems like gum disease, tooth decay, or dental infections, you need to receive treatment for these problems before completing any cosmetic enhancements. Some cosmetic treatments can even put your smile at risk if there are existing issues. For example, underlying tooth decay has to be removed before a veneer can be placed. Our office can address this issue directly, so you don't have to give up on cosmetic dentistry just because you have other problems to resolve. Keep in mind that our office cannot speak for the safety or efficacy of any over-the-counter cosmetic products we have not used.
How Long Does Cosmetic Dentistry Last?
Your cosmetic dentistry will last depending on which service you received and how well you take care of your smile after you leave our office. For example, veneers and metal-free restorations can last 10+ years with proper care, while cosmetic dental bonding and teeth whitening require more frequent upkeep to maintain. On the other hand, bonding and whitening take far less time to complete and are generally cheaper, so you'll need to take these benefits into consideration when choosing your treatment. Generally, the better you take care of your smile, the longer your results will last.
What Is the Difference Between a Dentist and a Cosmetic Dentist?
Cosmetic dentists have at least completed basic dentistry training and earned a DMD or DDS degree. However, dentists cannot necessarily say they are specialized in cosmetic treatments. This is because the American Dental Association doesn't consider cosmetic dentistry to be a specialty. That hasn't stopped dentists from choosing to expand their skillset and education on cosmetic dentistry. Our dentists are trained to perform a variety of cosmetic treatments and look forward to working with you one-on-one to meet your smile goals.