Dental Implants – Pacoima, CA
The Ultimate Answer
for Missing Teeth
While keeping your natural teeth is always ideal, dental implants are the next best thing. Like traditional bridges and dentures, they are used to replace teeth, but instead of just filling in the empty space that's normally visible when you smile, they also act as a replacement for the roots that previously rested in the jawbone. In other words, dental implants don't just look like real teeth; they feel and act like real teeth as well. To learn more about dental implants from our Pacoima, CA dentist and the new standard they've set for replacing teeth, call A New Smile today and set up a consultation with Dr. Ramtin.
Why Choose A New Smile for Dental Implants?
In-House Dental
Implant Placement
Various Materials
for Implant Posts
State-of-the-Art
Dental Technology
What are
Dental Implants?
A dental implant is a small post shaped like a screw. Traditionally, it is made out of titanium, but in recent years zirconia and ceramic implants have also become available. The post is designed to be surgically inserted into the jaw; as the mouth heals, the bone tissue will start to fuse with the post. Once this process (which is called osseointegration) is complete, the implant will be like a part of your body, and as a result your new restoration will enjoy unmatched stability once it has been attached.
The 4-Step Dental Implant Process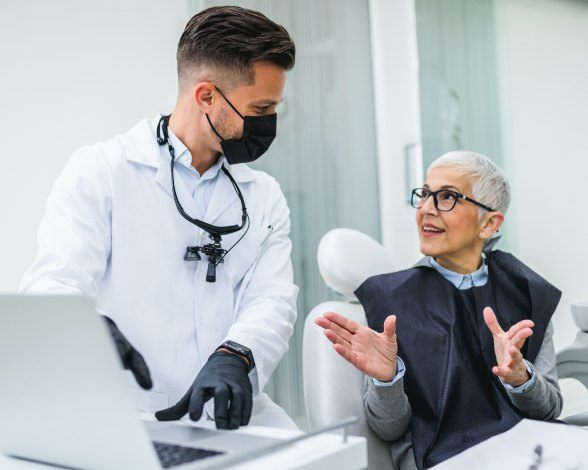 Step 1: Consultation: If you express interest in getting dental implants, we'll set up a consultation. We'll need to carefully examine your mouth to figure out what steps need to be taken for a successful implant procedure; bone grafts and other procedures may be needed to prepare for implant surgery.
Step 2: Surgery: We can place your dental implants in-house via a simple surgical procedure.
Step 3: Osseointegration/Abutment: It takes about 3 to 6 months for osseointegration to be completed, and once it is, we can attach an abutment to the implant posts.
Step 4: Delivery of Final Restoration: The final restoration will be personalized for your unique mouth. On the day that we place it, we may need to make a few last-minute touch-ups for the best possible fit and appearance.
Benefits of
Dental Implants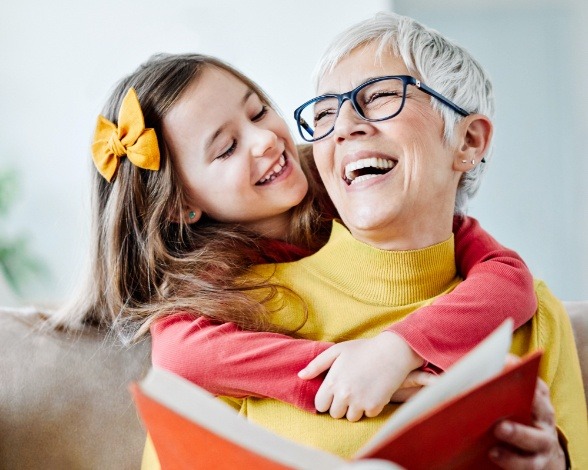 Implants are versatile and can be used to replace any number of teeth.
Since they're embedded in your jawbone, they feel more natural than other tooth replacements.
They prevent your new restoration from slipping, and they provide chewing power that's similar to real teeth.
They look natural and can significantly boost your self-confidence.
They are easy to take care of and can last for decades.
The stimulation they provide can help prevent bone loss over the long term.
Who Dental Implants Can Help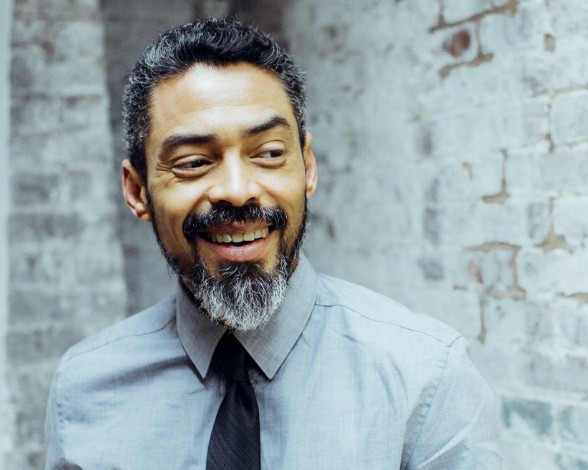 To get dental implants for your missing teeth, you need to have a fully grown jaw that still has a sufficient level of bone density to secure implants in place. Also, your mouth needs to be healthy and free of infection, and any autoimmune conditions, such as diabetes, that could affect bone healing needs to be under control. Note that even if you're not currently a candidate for implants, you might still be able to get them after certain treatments are performed.
Missing Single Tooth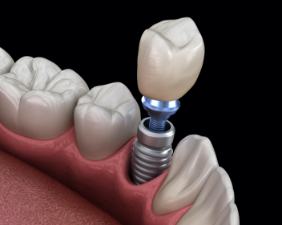 A single dental implant can be combined with a crown in order to replace one tooth. The crown will be designed to blend in with the surrounding teeth. Getting an implant instead of a traditional bridge means that we don't have to alter any of your existing teeth to make room for the final restoration.
Missing Multiple Teeth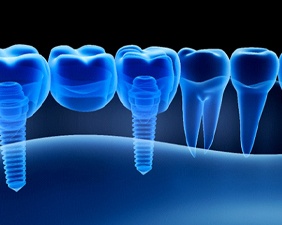 It's possible to replace any number of teeth with dental implants, but you do not have to get an implant post and crown for each one. If three or more consecutive teeth have been lost, for instance, you can get a dental bridge that uses a pair of dental implants for support.
Missing All Teeth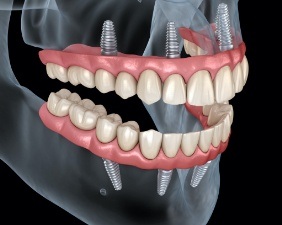 Should you have no natural teeth left, you may still be able to enjoy dental implants. We can use four to eight dental implants around your mouth to anchor a full implant denture into place. If you do not have enough jawbone density to support an implant denture and do not want to get a bone graft, we may recommend All-On-4 dental implants, which only require four dental implants to secure a full denture.
Understanding the Cost of Dental Implants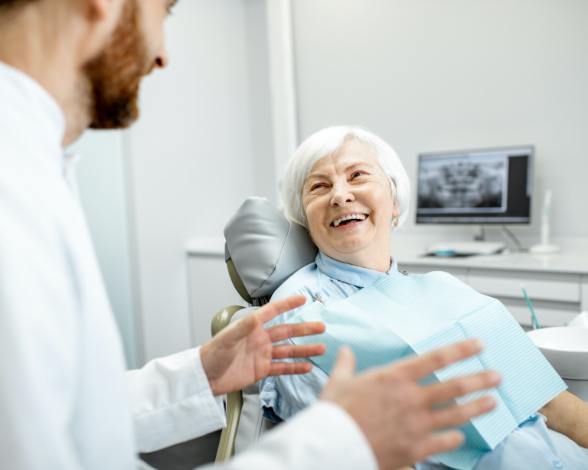 When considering the cost of dental implants, there are two things to keep in mind. The first is that the cost of the entire implant process is going to vary based on the number of implants you get and various other factors. The second is that despite the fact that dental implant restorations are more costly than traditional ones, they can actually end up being your best financial option due to their significantly longer lifespan minimizing the need for replacements.
Dental Implant FAQs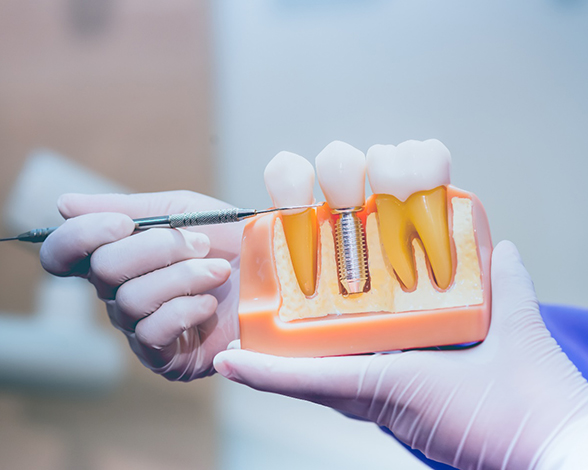 Perhaps you're considering dental implants in Pacoima. After all, these prosthetic teeth tend to be effective and successful. However, you likely want to know more about them first. That's only natural — you'll be more confident about treatment if you have all the details. To that end, we at A New Smile are here to help: below are some answers to frequently asked implant questions. Feel free to look them over and learn about our restorations. If the facts you want aren't listed, call our office to find out more!
How Long Do Dental Implants Last?
Often enough, dental implants have a lifespan of 30 years or more. They can thus last several times longer than traditional bridges or dentures. In fact, this longevity is part of what makes implants a great long-term investment.
Still, such a lifespan depends on a patient's health and lifestyle. To make implants last, then, you must brush, floss, and rinse them daily. Furthermore, you should attend regular dental checkups and cleanings. That way, a dentist can diagnose and treat issues before the implants are at risk.
Do I Need a Bone Graft Before Getting Dental Implants?
Sometimes, a patient needs a bone graft before implant treatment. Whether you require one, though, will depend on the state of your jaw.
You see, the jawbone often atrophies when you lose teeth. Without tooth roots to stimulate it, your body will slowly dissolve its bone tissue over time. This process can then leave your jaw without the density to support implants. Should that happen, you'll need a bone graft — a bone tissue transplant — to strengthen your jawbone to accommodate the new teeth.
Given these facts, a dentist scans your jaw prior to implant placement. Doing so lets them know whether bone grafting is needed for successful treatment.
Do Dental Implants Make You Look Younger?
Truthfully, yes — implants really do make your face look younger! (Not to mention more taut, full, and firm.)
As mentioned before, the jawbone can shrink from tooth loss — lacking teeth leaves it unable to maintain its density. This shrinkage, in turn, gives you a wrinkled, sunken-in face with lines around your mouth. Dentists often call the latter effect "facial collapse."
Fortunately, implants can prevent facial collapse. They, unlike other restorations, can stimulate the jawbone's various tissues. Consequently, they prevent the bone atrophy that makes you look older!
Will I Have to Take Off Work for Dental Implant Surgery?
You probably will take off work for implant surgery. Fortunately, it shouldn't be too long —only a day or two as you get the procedure and recover afterward.
Of course, every case is different. Those with physically demanding jobs, for example, may need three or four days off. (Heavy, work-related exercise could delay your recovery.) Therefore, talk to your dentist about the days you should take off based on your unique case.