Dental Crowns – Pacoima, CA
Protect Your Compromised Tooth
Tooth enamel is the strongest substance in your entire body, but it isn't completely indestructible. Teeth can become damaged by decay, injuries, accidents, and more! The good news is that we offer customized dental crowns in Pacoima to protect your compromised tooth from additional damage in the future. Thanks to our high-quality, tooth-colored materials, your crown doesn't need to stand out either! To find out if a dental crown is right for you, give us a call to schedule a visit with us!
Why Choose A New Smile for Dental Crowns?
Made from Tooth-Colored Porcelain
Flexible Financing Options
We Accept Dental Insurance
What is a Dental Crown?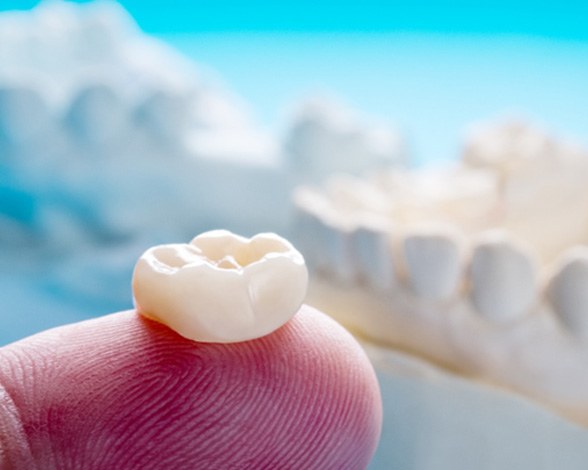 A dental crown is a custom-crafted "cap" that is made to precisely fit over the chewing surface of a damaged or weakened tooth above the gumline. The restoration can be made from a variety of different materials, including porcelain. Dental crowns are generally recommended for patients with the following situations:
Broken tooth that requires additional support
Tooth that's undergone root canal therapy
Severe decay that's being repaired with a large filling
Dental bridge needing support from adjacent teeth
Severely misshapen or discolored tooth
Missing tooth being replaced with a dental implant
The Process of Getting a Dental Crown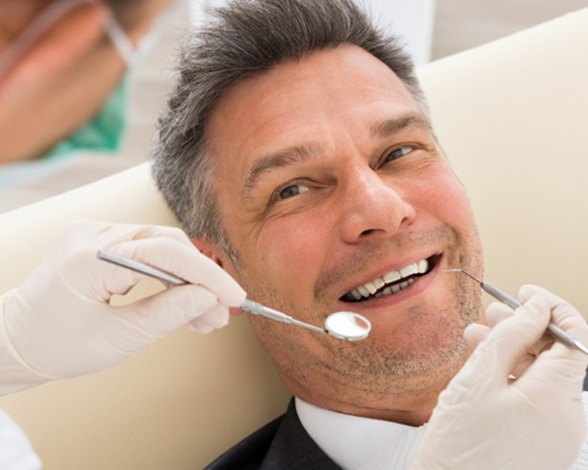 Having a dental crown placed is a relatively straightforward process. It can usually be completed in just two visits to the dental office. The first step involves taking a look at your mouth to ensure that a dental crown is the best solution for you. Once this is confirmed by your dentist, a thin layer of enamel needs to be removed. This creates room for the crown to fit comfortably in the mouth and appear natural. An impression is then taken and sent to the dental laboratory where your crown will be crafted.
In the meantime, we will provide you with a temporary crown. This will protect your teeth and help you become accustomed to how your new dental crown will feel. As soon as your final restoration is complete, you will come back to the practice where it will be adhered using special dental cement.
The Benefits of Getting a Dental Crown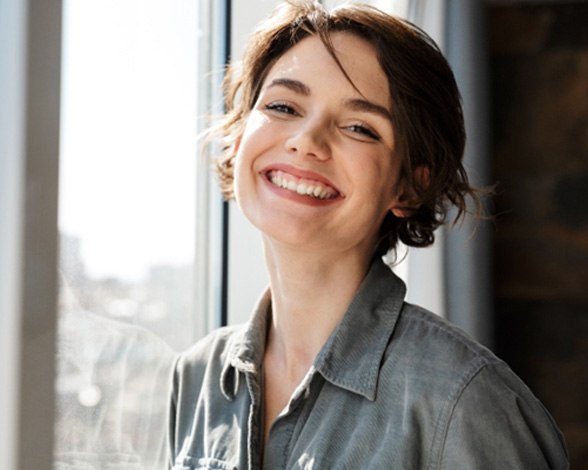 Dental crowns provide all sorts of unique benefits. Here are some of the ones that you can expect:
Feels comfortable
Appears natural
Customized for you
Prevents further damage
Lasts 15+ years with proper care
Improved ability to chew
Increases confidence
Dental Crown FAQs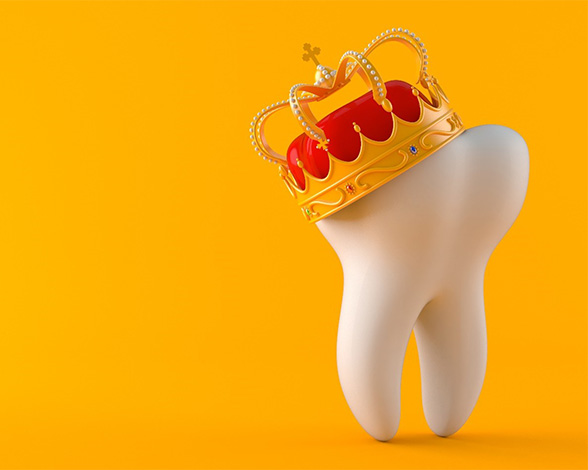 Have you been told that you're in need of a new dental crown? You may still have some unanswered questions about your procedure, so we're here to help! Here are the answers to some of the most common questions we receive about dental crowns in Pacoima. If you don't see the information that you've been looking for below, just give us a call. We'd be happy to walk you through the procedure so you can feel more prepared for your appointment.
Are Dental Crowns Permanent?
Dental crowns aren't permanent, but they are a long-term solution. They can protect your tooth anywhere from 5 to 15 years or longer with proper maintenance. When your dentist reshapes your tooth for a crown, that procedure is irreversible, as tooth enamel cannot grow back once it has been removed. That tooth will always need a crown for protection going forward. That being said, crowns are able to protect the underlying tooth from additional damage, therefore helping it to survive for much longer than it likely would have otherwise. By keeping up with a good oral hygiene routine and seeing your dentist regularly, your crown can stay in great shape for many years down the road.
Do Dental Crowns Get Cavities?
It is impossible for a crown itself to develop cavities, but the tooth underneath it still can. In fact, a crowned tooth has about the same risk of decay as an uncrowned tooth. Poor oral hygiene makes it possible for bacteria and plaque to form around the gumline where the tooth meets the crown. They can then travel underneath the crown and wreak havoc on the underlying tooth. You can prevent cavities in crowned teeth the same way you would in any other tooth. Brush, floss, and attend regular cleanings and checkups.
Does It Hurt to Get a Dental Crown?
Just like when you get a filling, your mouth will be numbed before the procedure begins. You will likely feel sensitivity for a few days afterward, especially if you also had a root canal. Fortunately, this is temporary and can be managed with over-the-counter pain relievers. If discomfort worsens, give us a call so we can help!
Do Dental Crowns Feel Natural?
Within a few days of receiving your permanent crown, it should start to feel increasingly natural. Crowns are made from durable materials that can stand up to everyday chewing forces just as easily as tooth enamel, so eating with a crown shouldn't feel strange. The reason that your dentist reshaped your tooth was to ensure that the crown would fit comfortably within your mouth. Additionally, every crown is custom-made based on impressions taken of your tooth. Ultimately, your restoration shouldn't feel awkward or even noticeable.