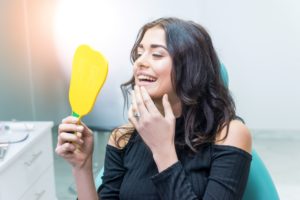 Everyone can have a smile they are proud to share with the world, thanks to cosmetic dentistry. You don't have to be rich or famous to invest in a confident, beautiful smile. The diversity of treatment options means there's a procedure to fit your budget. Not sure if you're a candidate? Here are a few questions to help determine if cosmetic dentistry is right for you.
Are You Unhappy with Your Smile?
Not everyone is born with an attractive smile. Besides genetics, lifestyle habits, age, and trauma can affect the appearance of your teeth. If you are embarrassed by chips, gaps, discoloration, or other aesthetic flaws, cosmetic dentistry can help. Your dentist can turn back the clock to restore a confident and attractive smile using a personalized treatment plan.
Are Your Teeth and Gums Healthy?
Most people can benefit from cosmetic services, but you must have healthy teeth and gums. Your dentist will examine your mouth to look for any concerns during your consultation. If they find any untreated dental problems, like cavities or gum disease, they must be treated before moving forward with any elective procedures to ensure your investment is successful.
Are You Committed to Your Oral Hygiene?
Cosmetic dentistry is a big commitment. You will need to follow a solid oral hygiene routine at home to safeguard your results. Besides brushing and flossing, don't forget to visit your dentist every 6 months for a cleaning and checkup.
Invest in the Smile of Your Dreams
Research has found an appealing smile is associated with youth, success, and confidence. You will look and feel your best to be more outgoing and even discover new career opportunities. In some cases, it can even reduce your future dental expenses by resolving issues that can affect your oral health.
If you're ready to have the picture-perfect smile you desire, it is time to schedule a consultation with your cosmetic dentist. They'll examine your mouth and learn more about your concerns to determine which procedures are right for you, including:
Porcelain Veneers: Fix several imperfections simultaneously using a minimally invasive method that can last for 10 years or more.
Metal-Free Dental Crowns: All-ceramic crowns match the color, size, and shape of your natural teeth to blend in with your smile.
Cosmetic Dental Bonding: A tooth-colored resin offers a quick fix for minor issues, like chips and cracks.
Teeth Whitening: An at-home or in-office whitening system can get your teeth up to 8 shades whiter.
Smile Makeover: A smile makeover uses treatments tailored to your needs to revamp your smile completely.
Don't worry, your cosmetic dentist will review all your options and the costs to make the best decision for your smile.
About Dr. Parham Ramtin
Dr. Ramtin earned his dental degree at the New York University College of Dentistry and has received advanced training in all areas of dentistry. He specializes in periodontics, cosmetic dentistry, oral surgery, and dental implants. As a member of the American Dental Association and California Dental Association, he has the qualifications you can trust. Contact our office today to request your consultation.