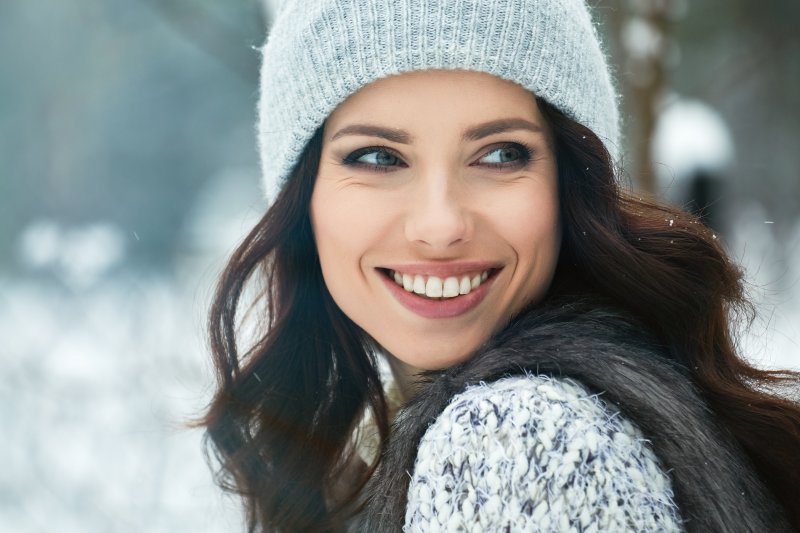 There are a lot of reasons to love the winter season; snow days, hot cocoa, cozy nights by the fireplace, the list goes on. But as temperatures start to drop, the weather can start to have negative effects on your oral health. There are quite a few common winter mouth issues that it's worth taking measures against. Being able to prevent these problems is important to enjoying the winter weather to the fullest. In that spirit, here are three of the most common winter mouth issues, along with how you can deal with them.
Dry Mouth
When winter comes around, it's common for the humidity in the air to start to fall. The lack of moisture in the air dries out your mouth, which can cause problems for your oral health. A dry mouth means that your mouth isn't producing saliva, and saliva normally breaks down food in the mouth and carries it into the stomach. When it can't do that, more of the food lingers in the mouth, feeding the bacteria that live there. Over time, this can lead to gum disease and tooth decay.
It might be a good idea to reprioritize staying hydrated. This facilitates the production of saliva in the mouth, which can keep your oral health on track.
Chapped Lips
In the same vein, dry air can pull the moisture out of your lips, chapping them. Chapped lips are unsightly and painful, so it's natural to want to avoid them. Along with staying hydrated, you might want to pick up some lip balm with SPF protection. That way, your lips can stay nice and smooth all winter long.
Sensitive Teeth
You might not notice it until the weather gets cold, but thinning enamel can cause your teeth to become more sensitive to extreme temperatures. If you've started noticing a sting when you drink hot cocoa or when you step into the winter air, you might try switching to a toothpaste designed for sensitive teeth. This toothpaste can dull some of the nerve endings that ordinarily cause sensitive teeth.
While there are some things to watch out for when the temperature starts to drop, taking a few preventive measures will ensure that your oral health stays in top shape. Keep these tips in mind, and you'll be able to enjoy the winter season to the fullest!
About Our Practice
At A New Smile, we pride ourselves on being able to address any oral health problem you might be facing. We have a general dentist, a periodontist, an endodontist, and an oral surgeon on staff, so we have the expertise to address a wide variety of issues. And of course, our friendly dental team will make you as comfortable as possible during your visit. If you have any questions about taking care of your teeth in winter weather, we can be reached at our website or by phone at (818) 897-5771.