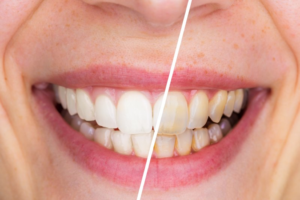 These days, more people than ever before are turning toward cosmetic dentistry to enhance their smiles and in turn, their lives—and one of the most sought-after treatments is teeth whitening. Capable of brightening pearly whites by up to several shades, this treatment option is convenient, accessible, and known for producing dazzling results. But many patients wonder if having cavities can impact their candidacy for teeth whitening—does it truly matter, or do cavities need to be treated prior to whitening? Here's what your dentist wants you to know!
Cavities Complicate Teeth Whitening Treatment
To put it shortly, cavities and teeth whitening agents are not a desirable combination! This is because the bleaches and agents found in teeth-whitening products often contain hydrogen peroxide, which is a chemical that can disturb your teeth—especially if they're overly sensitive or compromised by decay. This leads to uncomfortable interactions between the whitening agents and the teeth, as well as the possibility of even permanently damaging the teeth.
A Healthy Mouth Will Shine More Brightly
Since even a completely healthy tooth has the potential of experiencing irritation due to certain whitening agents, needless to say, unhealthy teeth are at an even higher risk of experiencing problems.
Think about the construction of a house—you wouldn't want to paint and put the finishing, beautiful touches on your project before ensuring that the underlying foundation is strong and capable of lasting! That said, whether you're using store-bought whitening strips or gels, or desiring professional treatment, you should visit your dentist beforehand to ensure that your smile is cavity-free.
How Your Dentist Can Treat Cavities
Your dentist is the absolute best resource for all things relating to your smile—including both its wellness and its beauty! This means that if you're hoping to brighten your grin via teeth whitening, you should allow your dentist to inspect your mouth, determine you're in good oral health, and treat any cavities before clearing you for the cosmetic procedure.
Cavities and decayed teeth can often be fixed with dental fillings, crowns, or other effective restorative solutions; it'll simply depend on your circumstances. In any case, once you're in adequate oral health, you can then begin to go about whitening your smile—that way, things are healthy and beautiful for the foreseeable future!
About the Author
Dr. Parham Ramtin received his DDS from the New York University College of Dentistry and has spent countless hours continuing his education so that his practice in Pacoima can provide you with an exceptional level of care. Dr. Ramtin and his team at A New Smile are proud to offer a wide range of preventive, restorative, and cosmetic treatment options, so if you or a loved one has any questions or needs to schedule a visit, feel free to contact them today for assistance. Telephone: (818) 873-3886.